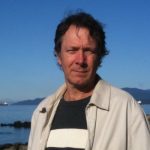 RUSSELL WALKER
Composer
Russ started his road to a career in music studying guitar and classical flute in the early 70's. He worked as a recording engineer in the late 70's, making records for bands, and gradually started doing audio post for video. Russ also played keyboards in several bands including New Regime, who were signed to RCA Records in the 1980's.
Russ also studied harmony and composition at the Royal Conservatory from 1999-2001.
From 1994 to 2014 he owned and operated Kitchen Sync Digital Audio, specializing in mixing documentary films. His facility was one of the first in Canada to go completely tapeless. Russ has worked as sound supervisor or sound editor on many award-winning documentary films and drama series including Cracked, The Border, Shake Hands With the Devil, Genius Within: The Inner Life of Glenn Gould, Turning Points in History, The Nature of Things. He has also composed music for many television shows, including The Famine Within, Hitman Hart and Outlaw Bikers. Most recently he wrote the music for Sugar Coated which opened to sold out screens at Hot Docs 2015.